The title of this blog is not a literal translation of the subject I wish to broach, but it's as close as I can come to capture it.

Right now, outside my balcony, a seemingly endless stream of screaming, "singing", chatting, schreeching, clapping children is passing by in the mayhem that is called Jeugdavondvierdaagse. Literally: youtheveningfourday (event). This means that primary school kids in just about every town go out once a year and for four evenings they walk around that town (on a set route and under adult supervision, of course) for a set distance. It's usually either 5 kilometers (3.1 miles) a night. On the last night they get a big welcome with flowers.


(Those orange rucksacks are from the main sponsor, what else but a cheese manufacturer? The coloured smocks are from the schools - probably easier than keeping them on a leash.)


And they seem to be having a ball. I'm trying to send myself an audio file from my phone, but should it fail, believe me, it's not pretty. Imagine yourself trapped in a room with all the walls made of chalboard and a thousand fingernails scratching it. And as it turns out, the route takes them along my street all four nights and past my house several times. Not to mention the fact that they seem to be parking their bikes here whilst they're underway. Yippie.

Apparently still a favourite, as it was even in my day 25 years ago, is the responsive "Daar bovenop de berg" (On top of that mountain):

Daar bovenop de berg
(Daar bovenop de berg)
Daar woont een stier
(Daar woont een stier)
Die geeft geen melk
(Die geeft geen melk)
Maar Heineken bier
(Maar Heineken bier)

Translation:
On top of that mountain
Lives a steer
It doesn't give milk
But Heineken Beer

These are kids between six and twelve. But they're Dutch kids.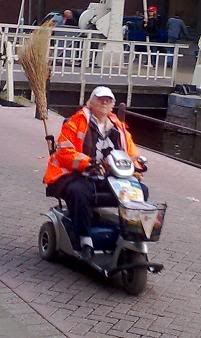 EDIT: so after a short break, they were back, now walking in the opposite direction. A couple of minutes after 9PM it was finished. At the front of this parade was a policeman on a motorcycle, lights flashing and seemingly enjoying himself although I didn't manage to take a picture of him with an amused smile on his face. At the end of this children's crusade came the broom waggon. I just had to take a picture of this lady and when I told her so, she seemed quite taken with the idea.


Only three more nights to go...