It's started again, the annual spectacle (and sometimes debacle) that is the UK version of The Apprentice.

Already one of the candidates has given up, before even meeting Sir Alan Sugar.


The missing man arrived at his London hotel for the start of the competition, but then decided to leave.

At the launch of the new series, Sir Alan explained to reporters that there was "nothing sinister" about the missing candidate's departure. The night before the competition started, "the candidate realised that, 'this is it. I'm away from my family and kids,' and I think the reality hit home," and he decided to bail out.

Last year I had a really good time discussing the show with a very smart group of people, but that website seems to have quietly slipped away in its sleep. It may be the people there were too likeminded...

There is some interesting facial hair thanks to Maj and a New York candidate whose voice is bound to get on my nerves if she doesn't get kicked off the show soon. Kimberly says about herself: "I bring honesty and integrity to the table, I don't lie, cheat or backstab. I am not the stereotypical New Yorker and it's a stereotype I've faced."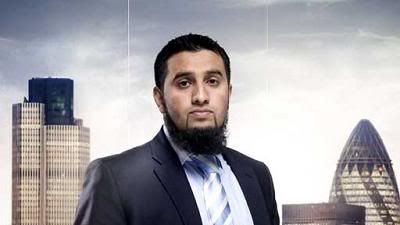 both pictures from the BBC