It's 5.30 PM on Sunday afternoon and I've just finished folding K's laundry. We're watching Deep Space Nine on the sofa.

This afternoon I had lunch at Saturnino, one of my favourite restaurants, with P and M. K joined us too and we all got completely stuffed. I had breaded veal, K had the linguine with crab and M had tagliatelle alfredo. Even K, notorious for eating less than he should (although he catches up in his sleep), practically cleaned his plate! P may be worse, but he had a very big portion of lasagne bolognese, so he's forgiven. If you're in Amsterdam, let me know, I'll take you there. Alternatively, go by yourself, they all speak excellent English (and it's very gay friendly, if that's a concern to you).




As I mentioned yesterday, last might we went to the theatre. The show was called Shrimp Tales (or Garnalen Verhalen) by Hotel Modern and it was incredibly funny. Using around 300 shrimp models, miniature sets and props set out on five or six tables, they portrayed lots of little scenes from human life. They kept moving around from one table to another, holding cameras so that their work would be shown on a screen at the back. Starting in a funeral parlour and ending with a hospital room full of baby shrimp in incubators, there didn't seem much of a plot otherwise, although in the end the all seemed to click together somehow.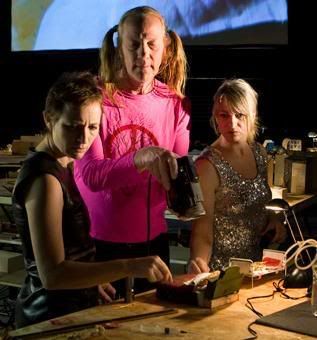 Enlarge to find out what the shrimp are doing.


Everybody enjoyed the scene drawing heavily on The Excorcist (including vomit and spinning head) and I thought the nightclub was very funny, with the bouncing shrimp and then a guy looking at the pipes in the cellar with someone making the ceiling go up and down; for the boxing match they equipped the camera with gloves, so it looked like you were one of the protagonists; several scenes were tied together by a rather sad character who tried to sell roses without any luck; when a group of shrimps visited Madurodam, one of them fell ill; a couple of shrimp bounced across the screen, low-gravity style, in front of a moon lander; there was a gory depiction of brain surgery and too much else to mention here.

In short, it was humanity portrayed by shrimp and I watched it with a Jew and someone who's allergic to shellfish. So when we went out for Thai food afterwards, I couldn't resist the sweet 'n' sour prawns, despite M's clever attempt at putting me off by recalling the surgery.


Enlarge to find out what was wrong with this shrimp.


All pictures by Leo van Velzen. Go here for more. I'm using the angelic shrimp as a wallpaper right now.