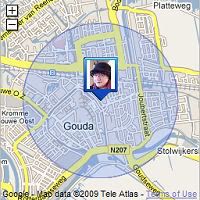 When I arrived at K's Saturday around 5PM, he told me how Sunshine had dragged him to the Albert Cuyp street market. "I know," I said, "I saw you there."

Yet I had only arrived in Amsterdam five minutes before. "I saw you coming," K said, "You were just outside the station, so I knew you'd be here soon."

On Friday he had emailed me at work. "Get Google Latitude on your phone," or something similar, it said. I had a little look at what it was first, but then I decided to go for it.

It works amazingly well, Now I can track their movements and save on those "Where are you?" phonecalls or text messages every time I get to Amsterdam. I will know when K is at home, or at Prik or anywhere else. And they can see how far along the journey I am, as it moves my picture along the tracks. I watched it as I was going and although it's always trying to catch up the train, it is pretty accurate. Especially when you get three or more satellites, it gets more accurate the more you can connect to. In the picture at the top there's only one and you can see the circle around my picture has a 1200 meter (three quarters of a mile) radius. I could be anywhere in there... When I stood outside my house on Friday, it had me practically pinned down where I was, using six satellites.