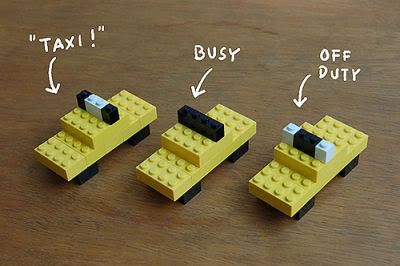 Not too long ago, I posted about Christoph Niemann's illustrated blog post on coffee. His latest installment is called I LEGO NY, which will resonate not just with New Yorkers. It's like a manual of how to survive New York City and I'm sure the rest of us slobs, of the non-New York variety, may get a chuckle out of it too.

I picked out one of my favourites to accompany this post. The choice may not be too smart, because it's a reminder of all the cabs I've tried to hail unsuccesfully (I'm an oblivious hailer, as soon as I see a taxi sign or a blue license plate, my instinct is to throw my arm up in the air, whether it's busy or not).

Of course all rights belong to the New York Times and Christoph Niemann.