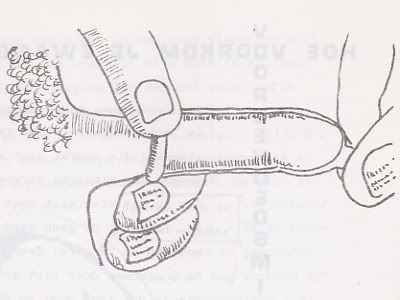 Yesterday I dug up another gem from my school days. This picture was on page 32 of the biology reader "What is sex? Who knows?" Here's an excerpt from the introduction:

When most people think of sex they think of something that belongs to being married. But there are other sexual relationships too. Because that relationships fits the orientation of the people concerned, because the group norms demand it (for instance arabs or eskimos) or even because people get a kick from going against the generally accepted norms. You can probably fill in these forms and perhaps you have seen several of these in your surroundings....

WOMAN with MAN
WOMAN with WOMAN
MAN with MAN
MAN with MULTIPLE WOMEN
WOMAN with WOMAN but sometimes with MAN
MAN with WOMAN but sometimes with MAN
WOMAN with MULTIPLE MEN
GROUP RELATIONSHIPS

.... and then there are steady relationships, loose relationships, steady with a loose relationship on the side, and people who are alone and experience sex on their own. *

This was my second year of secondary school, the year in which I turned 14. I didn't remember the drawing, but I can vividly picture my biology teacher demonstrating this - on the end of a broomstick. I have to say I was a bit shocked at how clumsy my busdriver was at putting one of these on, I had to tell him to hold on to the tip. But then the chapter on relationships says:

One of the most common problems between boys and girls is that they have wrong expectations of each other. Boys think they will embarrass themselves if they aren't macho and don't take the initiative, girls think they will push boys away by taking control.
But in reality many boys are only too happy with girls taking the initiative and girls often find shy, slightly clumsy boys quite attractive!


* At the time I didn't object to the four-period ellipsis or the Oxford comma, my snobbery hadn't been fully developed.