Hi there, on Friday I posted about having yet another fall thanks to my wonky calf muscle. What I didn't mention was a completely useless trip to a rude family doctor (not my own, it was after hours, this was at a special station next door to the ER. I'm starting to feel I should've gone there instead.)

Speaking of ER, after getting a couple of crutches on Saturday morning I decided to tough it out and go see k.d. Lang that evening after all. I used two crutches for the trip to Amsterdam, but decided it would be easier to just take one to the concert. So K compared me to Dr. Kerry Weaver from the show. Ohhh, close enough: Dr. Kerry Weaver to Jerry Markovic (the receptionist): "Your IQ's not 150. Mine's only 145." But I suspect she might've been more interested in all the women at the concert than I was.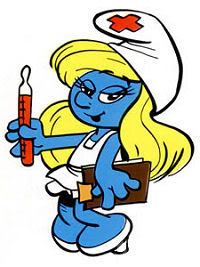 Anyway, I'm walking almost without pain now, but I will persist in using two sticks for long distances (travel to and from work) for another week just to make sure that this time I give it time to heal and not have another setback like the ones I've been having for three weeks now. Then after that we'll see if I'll keep on using one stick or not.

PS. if you don't like pussy, don't do a google image search for "nurse" with SafeSearch Filtering off.

PPS. I realise these with all the talk about Kerry Weaver doctor pictures might've been more appropriate, but I couldn't be bothered. Except pondering the purchase of a cardboard cut-out Doctor. (The same warning for googling "nurse" also applies to "doctor".)

O yeah, I'm still looking forward to this one happening to me. Dr. Kerry Weaver: "All right, which one of you smart-asses stole my crutch?" A colleague I met in the hall after lunch told me to "Get a move on, will you?" though.