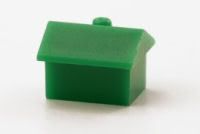 I saw an apartment this morning.

I was shown an apartment this morning. By a realtor.

This afternoon I put in a bid.

Then I went to check whether I could actually get a mortgage to cover it. Fortunately the bid was subject to financing. But it seems that I could.

The vendor is a long-distance truck driver and was sleeping so that he could drive overnight, so the realtor couldn't get in touch with him today. Tomorrow morning I might have a deal.