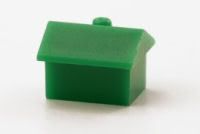 This morning I received an e-mail from a real estate site telling me that the price for a duplex I've been following has been dropped by 7,000 euro. It's starting to get very tempting now, although even at its current price I'm not quite sure if I can swing the mortgage.

I still don't understand that: if I wanted to rent a similar space I'd be expected to pay twice as much per month, I have a steady job, I can afford it. But this is just over the upper limit, so maybe it'll work out.

As it is Saturday I'll be going over to K's tonight to watch Doctor Who. Apparently I woke him up with my call at 12.33 PM and he just missed it. Of course he didn't bother to call me back, but I talked to Sunshine on MSN a bit later and found out. He also relayed K's request to bring dinner and some cleaning tablets for the toilet. I'm out of those and my toilet could probably do with some too, so I'm off to go shopping now.