Every two years this country goes absolutely crazy. Fortunately for Dutch football, but rather unfortunately for me, The Netherlands tend to always qualify for the major tournaments.

It's not that I don't wish my country well, I would honestly love to see them win - if only I could be sure there would be no Dutchmen acting like idiots, dressed in every item of orange clothing (this term taken loosely enough to include such things as tea cosies) they could find, likely to put on a repeat performance of the last time we actually won one of there major tournaments in 1988 when thousands celebrating in the streets and on the canals of Amsterdam, causing several canalboats to sink and damaging many others.

But it's not the damage that I'm worried about particularly - not owning a canalboat helps in that department - it's the frenzy, the mass hysteria that caused it. Part of the problem is undoubtedly that I simply don't 'get' the feeling of togetherness. I tried to lose myself in the crowd at Feyenoord for a few years but realised when I found myself reading Plato on the terraces that I was still very much an outsider. Another is the complete disregard of the consequences.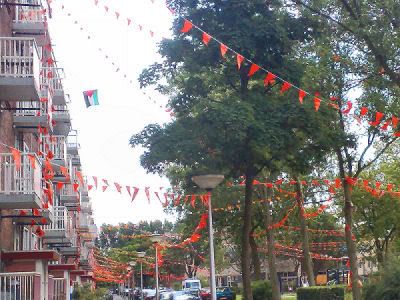 How could someone on the roof of a canalboat not realise they were wrecking it? How could the people shouting, screaming and lighting fireworks after The Netherlands' first match at this year's European Championships not realise that I had to in to work in the morning? And then there are all the strings of orange flags and, even worse, every variety of tacky, orange merchandise you can think of, hurting my eyes every step I set outside my door. How can they not see that their yobbish behaviour is ruining my enjoyment of the game.

Honestly, I want "my" team to do well. I was the first to shout YES! when they scored (particularly since I discovered that the BBC coverage, through some technical wizardry, is a fraction of a second faster), all seven times they have scored in their two matches so far, beating the winner and runner-up of the last World Championship respectively. But sometimes it seems much more pleasant to just do without the Dutch team in the final stages. Perhaps my feelings have been shaped by the first tournament I consciously followed, the 1986 World Cup in Mexico, in which The Netherlands didn't take part. I probably saw the majority of matches and all kinds of countries and great players. Like the "other" Maradona goal during the Argentina vs England quarter-final - the one that wasn't scored by "the hand of God" as he called it. It was voted Goal of the Century, the best goal in World Cup history:



I enjoyed myself watching the teams and players, appreciated their stragegies and skills without any of the hype and crassness that overshadows tournaments as long as Holland is still in them. That's why I've often hoped for an early exit for Orange.