Welcome into the world Mary Grace. Like a true diva you made everyone wait for your grand entrance (12 days!), but finally today was the day you deigned to reveal yourself to the world.

Despite expectations, old wives tales and statistics, you resisted the full moon and waited until there was no moon at all.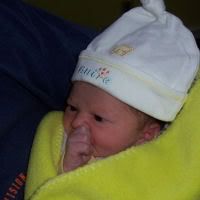 I hope your Mommy and Daddy won't mind me using these pictures, but they have something else (you!) on their mind right now.