It seems like ages since I last perved out over Jonathan Rhys Meyers. But I'm tired and my defenses are probably weaker. There's just something about the guy for me.

And no, I don't mean his small pupils and bloodshot eyes.



These pictures were taken last Friday as he left the Villa nightclub in Los Angeles after - apparently - a good night's partying... I found them on Just Jared.

Although I'm not saying he looks drunk in those pictures, they remind me of one taken a couple of years ago, when he definitely was.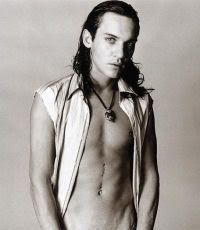 And just to show what kind of a pervert I really am, here's one from a very saucy photoshoot. It was taken around the time of the filming of Oliver Stone's Alexander, hence the long hair.

Embiggening does wonders, especially for the last one...