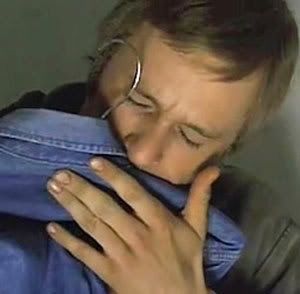 I wasn't going to mention the death of Heath Ledger because, sad as it is, because it didn't really touch me. If that sounds callous to you, please understand that every celebrity death reminds me of all the death and suffering that goes unreported.

There is still some question as to how the Australian actor died, he was found in the middle of the day, lying face-down and naked, with pills nearby, but the preliminary post mortem hasn't shown any obvious sign of how he died. If further results, as they come in over the following weeks, don't throw any light on this, the mystery combined with his young age - 28 - may propel him to legendary status. Still, I never was all that interested in Jimmy- or Marilyn-worship.

However, things have gotten "interesting" now. Some idiot Fox radio host thought it was funny to make jokes about it, based of course on Ledger's marvellous acting in Brokeback Mountain - which earned him a nomination for an Academy Award. Having incredible material to work with to begin with, the screenplay follows Annie Proulx' short story very closely, Ledger makes it even more intense with his performance.

But having had the guts to portray a gay character in a major Hollywood movie* makes him a target in some people's eyes, even in death. Fox' John Gibson, "blinding you with his razorsharp acumen", did in fact no such thing. Check out this link, it has transcripts and an audio clip.

What to think about Mr. Razorsharp Acumen? I don 't know, I think his blade is pretty dull...

EDIT: See some of the responses to these 'jokes' in the media on Towleroad and watch Gibson apologise here.

---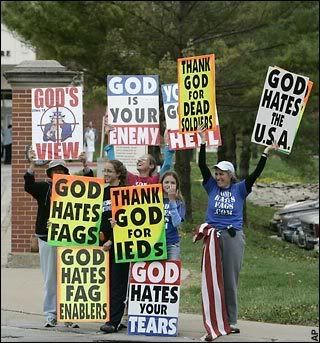 EDIT: When you talk about bad taste, these people are never far. Fred Phelps' sect, the Westboro Baptist Church (mostly made up of his family), of God Hates Fags "fame" (the site seems to be down for me at the moment - I wonder if it has anything to do with this) has announced they will be picketing Heath Ledger's funeral. This picture is an example of the signs they use to picket the funerals of homosexuals and US soldiers. Why those soldiers? Because the USA has given rights to homosexuals and thus everyone, and they mean everyone, in America is a "fag enabler" - except themselves, of course...

---

A federal advertizing campaign to promote the dangers of prescription drug abuse has been called off as a result of the speculation over Ledger's death. The White House didn't want to seem to be opportunistic. There's a first.

---

Brokeback Mountain picture "borrowed" from Tom Bacchus on the Vine (NSFW!). Placard picture by Associated Press, through the Telegraph.


* Not that it should be anything you need more guts for than any other part, but in these days, unfortunately, it is...