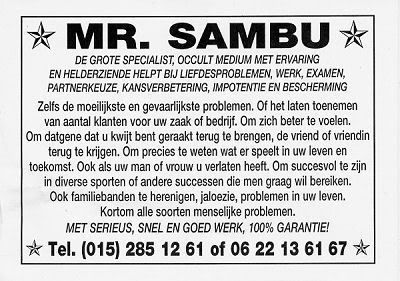 These tiny leaflets that are sometimes left in the mailbox always amuse me. I decided to translate the most recent one.
Mr. Sambu

THE GREAT SPECIALIST, OCCULT MEDIUM WITH EXPERIENCE AND
CLAIRVOYANT HELPS WITH LOVE PROBLEMS, WORK, EXAMS, PARTNER
CHOICE, IMPROVING YOUR CHANCES, IMPOTENCE AND PROTECTION

Even the most difficult and most dangerous problems. Or increasing
the number of customers for your company or business. To feel
better. To find that which you have lost again, win the boyfriend
or girlfriend back again. To find out exactly what's going on in
your life and future. Also if your husband or wife has left you.
To be succesful in several sports or other successes that one wishes
to achieve. Also rekindling family ties, jealousy, problems in your life.
In short all types of human problems.
WITH SERIOUS, FAST AND GOOD WORK, 100% GUARANTEE!