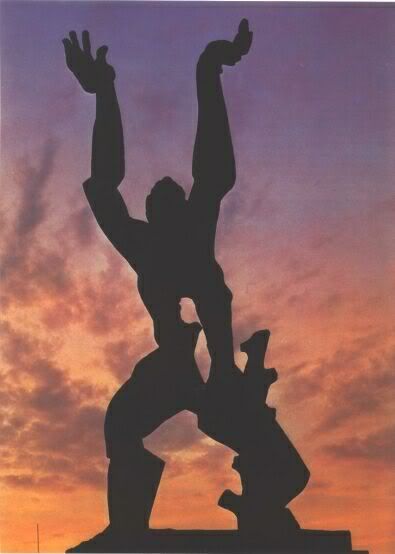 There's a fascinating blog called strange maps which I don't visit often enough. I was just looking through my bookmarks and seeing it triggered a memory. On May 14th of this year, a very special memorial was held to the victims of the German bombing of Rotterdam 67 years earlier.

As a monument in light a series of 128 searchlights drew a map the edges of the firestorm in the night sky over the city.

Lasting a little over ten minutes, the May 14, 1940 bombing unleashed a devastating firestorm in the heart of Rotterdam. Around 800 were killed, 80.000 were left homeless, the heart was ripped out of Rotterdam, and although there was new building it now has an ugly city center (my opinion, but shared by many). The statue pictured here is Zadkine's memorial Destroyed City, which clearly illustrates this loss.

After the rubble had been cleared:



The church and viaduct you see in the previous picture are also pictured in the top left of this one, taken some time before:



Moving pictures of the devastation:


The Rotterdam City Archives have a site devoted to Rotterdam in the Second World War.
See more pictures of the memorial on flickr.