Earlier I wrote about the fun night of karaoke and sushi (and some warm sake and chilled wine) I had with K and Sunshine last Wednesday. This happened later that night.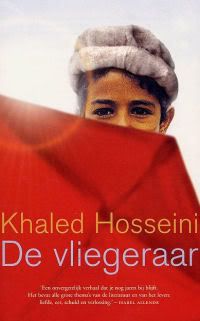 On the train back, leaving at quarter past midnight, a black man wearing a stylish grey pinstripe suite and on his head one of those things that are a cross between a woolly hat and a hairnet (sorry, that's what they always remind me of), asked me what that book was, that I was reading. I almost had to get off, so I quickly rattled off some stuff about this boy growing up in Afghanistan before the Soviets invaded and then as a grown man went back there years later when the country was suffering under the Taliban regime.

A few days before that one of my colleagues noticed the same book as I was reading it in the lounge at work (there's a little lounge between wings, with a couple of seating areas and coffee machines) and said: "I think the whole department has read that one." I then proceeded to apologise for reading it in translation - rather fruitlessly because she didn't understand me until I explained that it wasn't originally written in Dutch. The reason I read it in Dutch is that it was a gift to my father from a neighbour. My parents both read it, which is extremely rare. And they both loved it.

So yeah, I read The Kite Runner, or more correctly De vliegeraar, and I... I don't think "enjoyed" is the right word. At one point I was almost in tears a couple of times, always as I was reading in public, of course... But yes, there is a certain satisfaction that comes from reading good books, interesting books, books that make you see things in a different light, through different eyes, books that make you feel something you hadn't experienced before, or books that make you feel you didn't experience it alone.

This is one of those books. For those who haven't read it: you should!

PS. Saturday I bought Armistead Maupin's Tales of the City and I'm more than halfway through it already, a very relaxed read but a good one.